Superfighter

Posts: 300
Joined: Fri Jul 15, 2016 7:56 pm
Started SFD: PreAlpha 1.0.5
Location: Rome, Italy
Gender:
Age: 19
If RunSpeedModifier is above 1,4 and the player is running while he's drawing a weapon, the animation will be restarted.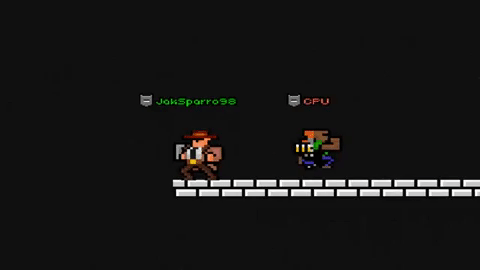 Map example
---
Superfighter

Posts: 251
Joined: Mon May 09, 2016 7:35 am
Title: Sunny City Citizen
SFD Account: Motto73
SFD Alias: Motto73, Pack-Man!
Started SFD: Multiplayer Test Demo
Location: Sunny City
Gender:
Age: 18
Same applies for all weapon-transition-animations like reloading or entering to throwing mode.
There is the place I live in, and then there's my home, the hideous, brutal and cartoony world of Superfighters Deluxe.
---
Lead Programmer

Posts: 989
Joined: Sun Feb 28, 2016 3:22 pm
Title: Lead programmer
Started SFD: Made it!
Location: Sweden
Gender:
Age: 27
Fixed after Beta 1.0.2c.
The idea was that the sprint should be a visual-only animation but turned out to block certain actions like drawing your weapon, entering throwing mode, hip fire, reloading and more. So the sprint animation will only show as long as you're not doing anything else but running (with 1.4+ RunSpeedModifier that is).
Gurt
---
Who is online
Users browsing this forum: No registered users and 1 guest