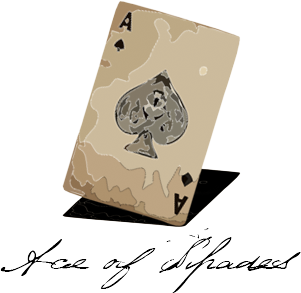 Welcome to Ace of Spades, a clan created by two brothers who aim to playing for fun, sometimes serious but for fun mostly, we're trying to create a great clan from Brazil, we're aiming for the Top. Our tag's | Ace |. Every one of our players have a pair, defined by the logo of the card signs, this not necessarily means one are above anothers, just who's couple with who . Our plan is to make 1 couple for each cards signs.
Illusion / None
:
Creator of the Clan. Jack of Spades


A smart player, do not take him seriously, he isn't going that hard.
Darth Hatter
:
Co-Creator, Illusion's little bro. Jack of Spades


Be extra careful with him, if he's not on your sight for a moment you're probably going to die.
Kaneki
:
Jack of Hearts.


A skilled player in the art of melee, don't get in his arms range.
Blitz
:
Jack of Hearts.


A very fast and skilled player, if you think you're going to win, he's going after you, and he will take you down.
Chibaku
:
Jack of Clubs.


Don't go easy on him, he always has a plan, always.
Blues
:
Jocker

Don't let the color Blue fool you, he's not an agent of peace.
How to Join
To join us, prove your value just playing with us, we don't make tests, we invite you, if you show a respectful personality and some good skills maybe you're going to receive a call,
maybe
.
Informative
We pretend to create the best clan with the objective to achieve top one in the whole world, maybe our dream's too big, but there's anyone who can stop us, wanna check out? Try it...